Frequently Asked Questions
Q: What are I Model Managements model requirements?
Male fashion models must be between 5' 11.5 to 6' 3" and between 16 and 30 years of age. Male commercial models can be between 19 to 40 years of age and 5 ' 11 to 6 ' 3. You must be in excellent physical shape with a clean complexion and good grooming skills. Models must also have a pleasant and very outgoing personality and enjoy working with a variety of different types of clients. Experience is not required.
Female fashion models must be between 5' 7" (if aged 14 or 15) to 6' 0 and between 14 to 23 years of age. Female commercial models can be between 20 to 50 years of age and there are no height restrictions. You must be in excellent physical shape with beautiful skin complexion, good grooming skills, and be fashionable. Models must also have a pleasant and outgoing personality and enjoy working with a variety of different types of clients. Experience is not required.
Q: What should I do to be considered by I Model Management?
To become a model with I Model Management:
Email us some pictures – they do not have to be professional photos - to newfaces@imodelmanagement.ca. Please send photos as a regular .jpg attachment only. You may zip your photos in a zip file if desired. We do not accept photos inserted into Word, WordPerfect or PowerPoint programs.
We will review them, and if at that time we feel you might have potential to be either a fashion or lifestyle model with our agency, we will contact you and arrange a time for you to come in and meet with us. We meet with potential new faces by appointment only. Currently we do not have an open call.
Q: What information should I include with my photos?
Please include the following: Age, height, shoe size, hair and eye color.
Female models must include their true bust, waist (measured around the smallest part of the torso between the rib cage and belly button) and hip measurements (measured around the widest part of the bum un upper thigh, with feet together).
Male models must include their chest (measured around the pec muscle usually right across the nipples with shoulders relaxed) and waist size (measured around the belly button). Please include your phone number, mailing address and email address.
Q: Do I need a portfolio?
Pictures will be required only if you are accepted for representation. Do not spend money on photographs until you meet with our agents. I Model Management works with experienced fashion and commercial photographers we can refer you to should you need to get pictures. Right now, we simply need to evaluate your potential. Amateur models and talent can submit snapshot photos by digital camera in swimsuit. Professional models can submit a comp card or plus any other photos for consideration including a new set of digital snapshots.
How do I take the snapshots to submit for review?
Male and female models should use a digital camera and take snapshots following the guidelines listed above and using the snapshots below as examples. Please be in bikini(females) or form fitting briefs or boxer briefs (male).
Head Shots: left profile, right profile, straight on face, at least one smiling
Waist Up: no smile, looking at camera, quarter profile left and right
Full Body: left profile, right profile, straight on
*PLEASE MAKE SURE YOU TAKE THE SNAPSHOTS IN BRIGHT NATURAL DAYLIGHT, AGAINST A PLAIN COLORED WALL WITH NO FLASH – BUT NOT IN DIRECT SUNLIGHT*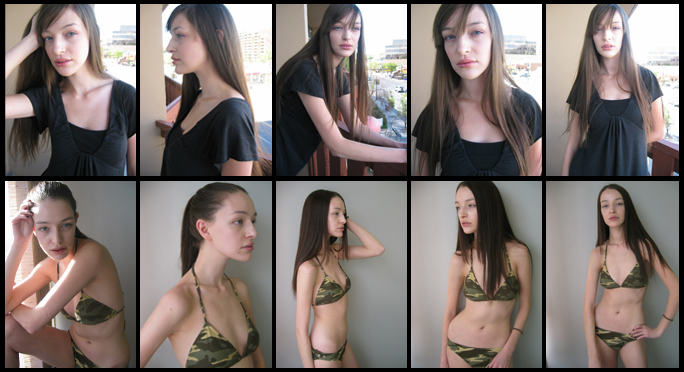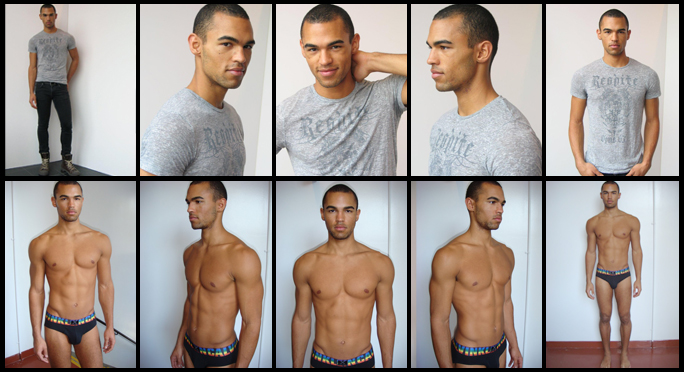 Q: I have been scouted and have set up my initial interview. Now what?
In a nut shell, it's quite simple and will not take very long. When you come in we will have you fill out an information sheet, we will take your measurements, and we will take more digital snapshots in the agency of you in order to evaluate your potential to be a model with our agency. This whole process takes about 20 to 30 minutes.
Q: How long does it take before I Management notifies me?
You will be notified within two weeks after you submit your photos or come in to see us if we are interested in representing you. If you do not hear from us within two weeks, then unfortunately we will not be able to provide you with representation as you are not right for us at the time.
Q: Do I have to live in Calgary or Vancouver to be represented by I Model Management?
No, you do not have to live in the city where our office is located. Our agency represents models from all around North America, as well as some live in Europe and South America! We can provide representation to models regardless of their location. In the day and age of the internet and the easy ways of communicating, someone from any other city can email us their pictures or snapshots, and if we like them we can represent them, and se t them up in their city for their first test shoot with a talented photographer.
Q: What exactly does I Model Management do?
First we scout for people who have the potential to work as a fashion or commercial model locally, internationally or both. Second we nurture and groom these new faces (development) until they are ready to work for our clients at home and/or overseas. This work may include runway shows and photo shoots for magazines and catalogues and advertising, as well as some television commercials.
Q: How does I Model Management choose new faces to represent?
Our scouts have a fantastic and keen eye to spot the next new face our international clients need to promote their design houses and brands, or our local clients need to relate and appeal to their demographic. Once we determine that a potential model meets the industries strict standards in regards to height and measurements, we will take digital photos to help to determine if there is potential to model either locally or internationally. If we see international potential, we will offer a contract, and the first test shoot is booked and the development process begins.
Q: What is a mother agent?
A mother agent is the agency who starts the model in the business. Their job is to place models with agencies around the world and guide and oversee their career while allowing the overseas agencies to obtain work for the model in their market. Essentially a mother agency scouts, develops and manages the models career. The major agencies in New York, Milan, Paris, and Asia rely a great deal on mother agencies in smaller cities to present them with their new faces for consideration to work in their market.
Q: Why do new models have to pay for their test photo shoots?
The most important tool a model has is a portfolio or book. Your book needs to have strong, diverse photos to show clients your versatility. Photo shoots create your book before you have editorial work to show from magazine jobs that you do. Just as a craftsperson pays for the tools of their trade or craft, a model pays for their photo shoots to build their book! However, I Model has a very close relationship with many fashion photographers in Canada and can usually line up a new model with a "creative" shoot for no charge. We also do not charge for our Polaroid shoots or digital snapshot shoots we do in the office, and generally will start promoting a model off of these. Once the model shoots jobs booked off snapshots we get some of the promotional material we need. Essentially, it will cost a new model that we sign absolutely nothing to get started in the business as we do not charge any administration fees, upfront registration fees, or any other sort of fees or charges. If we sign you, we see potential in you, we work hard for you and make our money off the jobs we book for you. Our commission for jobs booked by I Model is 20%.
Q: Who pays for the model to go overseas?
Once in a while the agency overseas will pay for the model to come to their city (i.e. agencies in Asia, parts of Europe or Mexico). However, This is an advance and the amount of the airline ticket will go on an account for the model. This means it is a loan to be paid back out of future earnings. Usually, the model will pay for airfare and accommodation when traveling to a new city.
Q: Where can I find even more information about your agency and the modeling industry?
If you would like to educate yourself even more about our company, what we do and how we do it, we encourage you to download our extensive info pak by clicking
here
. ou will have an option to view it online, but we suggest that you print it and keep it for future reference.